Pourpoint of Charles de Blois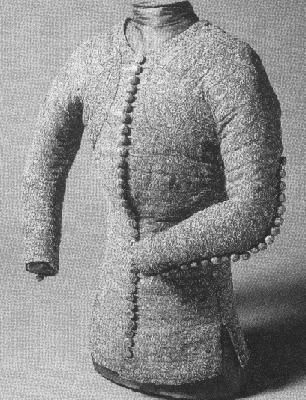 Kept in the Musee Historique des Tissus in Lyons. Probably post-dates his death at Auray in 1364.Front and sleeves fasten with cloth-covered wooden buttons, same way as Charles VI's with disc-shaped buttons below the waist and domed ones above the waist. There were thirty buttons in the front, the two lowest are missing.
Made from a silk damask with a pattern of heraldic lions and birds set in medallions, and padded. The quilting stitches are horizontal and spaced at 3.5 cm.
N.B. According to someone who has seen this garment in person, the pourpoint was in fact neither quilted nor padded. The quilted effect is instead part of the conservation - the unlined garment has been tightly stitched to a backing fabric. See Cynthia Virtue's page for the full commentary!
Bibliography:
Arms and Armour of the Medieval Knight, by David Edge and John Miles Paddock, published by Saturn Books in 1996.
Drotting Margaretas gyllene kjortel i Uppsala Domkyrka (The Golden Gown of Queen Margareta in Uppsala Cathedral), Agnes Geijer, Anne Marie Franzen, Margareta Nockert, Kungliga Vitterhets Historie och Antikvitets Akademien, Stockholm 1994
For a discussion on how to make such a garment, see this Artifact article.