The Bocksten Tunic
Bocksten is a peat bog in Halland, in the southwest of Sweden. In 1936 the body of Bocksten Man was found there and taken to Varberg Museum. He had been murdered, and an oak paling driven through his body to stop him from haunting. He wore a tunic, a mantle, woolen hose, leather shoes, carried two leather belts and two knives. His hood was found nearby. The garments were reconstructed, not entirely correctly, at the time of the find. Between 1979 and 1981 the costume was re-examined and some changes made to the original reconstruction.
The garment is now yellow-brown on the outside, red-brown on the inside. It is a 2/1 twill, originally fulled. Around the waist there is a 5cm wide lighter area, which is the marking from the belt (the leather reacting to the bog acid).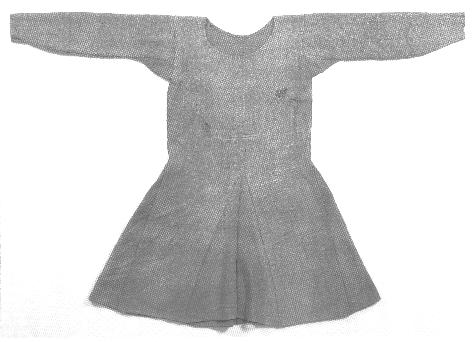 (Click for a large (huge!) picture in colour)
Front and back are cut as one piece. A centre gore has been inserted both front and back into a slit 58cm long. The front gore is made up of two pieces sewn together, the back gore is one single piece but a false seam has been added for symmetry. The side gores were cut across the fabric. The right side has two gores, the left just one (without false seam).The right sleeve was pieced together, both sleeves have two triangular gussets under the sleeve to add to the width at the top. The sleeves had a 1cm hem.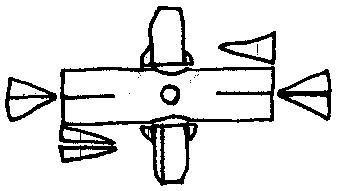 The tunic was cut from fabric which may have been 55cm wide (one selvedge is preserved). The total length of the fabric piece is estimated to 4.5m. Whole body length 230cm. Width around hem 250cm. Neck circumference 82cm. Sleeve length right 61cm, left 59.5cm. Width around wrist right 23cm, left 22cm.
Bibliography: Bockstensmannen och hans dräkt, Margareta Nockert m.fl. Hallands länsmuseer, Halmstad och Varberg, 1997.